Leveraging Your Dealer Trade Network
Reduced on-lot inventory is impacting many dealers. Setting up your own, unique Dealer Trade Network allows you to strategically place a specific selection of vehicles in front of buyers, and allows you to choose your dealer trade partners, expanding your virtual inventory. Trade-available inventory always displays after your own on-lot vehicles on your website. Work Truck Solutions can help your dealership present the vehicles buyers are searching for with a combination of on-lot vehicles, plus those vehicles within the trade network.
Our trade network solution uses our library of stock photos to ensure you are not displaying another dealer's logo or signage on your website. Work Truck Solutions network inventory includes inventory from more than 200 different body manufacturers and custom upfitters. You can decide how to expand your inventory - by type, by trade partners you select, or a little of both!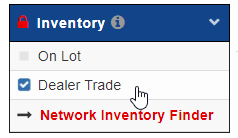 When you are logged into your Work Truck Solutions portal you can see all the details of what is available, including the number of vehicles available for trade at your trade partner lots and the distance from your location. Work Truck Solutions trade partners may be set by radius from your location, by name, or other combinations of factors. Your Dealer Success Coach can walk you through the many options available to you, and help set up your perfect trade network. They will even help you review your settings on a regular basis and make recommendations to support your growth plans.
Log in now to see your Dealer Trade configuration.